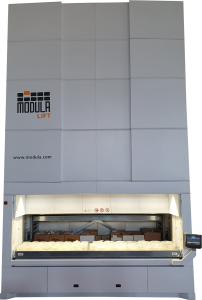 Valvengineering is a company strongly focussed on research and development of innovative solutions: making the most of the possibilities offered by the Industry 4.0 concept we are moving to reorganise and improve our work flow, and have installed and commissioned an automated vertical warehouse for our stocked components.  This is interfaced to our operating software and enables us to reduce the space occupied by around 85% and to save time and improve tracking of stock levels.
In addition there is a notable improvement in stocking conditions and operator security.
Valvengineering è un'azienda fortemente direzionata nella ricerca e sviluppo di nuove soluzioni ma non solo : sfruttando le possibilità offerte dall'Industria 4.0, abbiamo scelto di riorganizzare e migliorare ulteriormente il flusso di lavoro, ovvero installare un sistema automatizzato di immagazzinamento della nostra componentistica, abbinato al nostro software di gestione, in modo da sfruttare al meglio la superficie occupata e risparmiando oltre l'85% dello spazio a terra rispetto al magazzino tradizionale.
Oltre a questo, va contata anche una maggiore sicurezza sia per le merci che per i nostri operatori