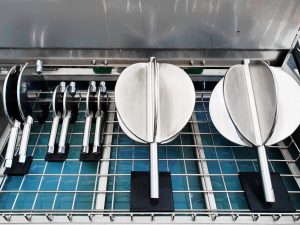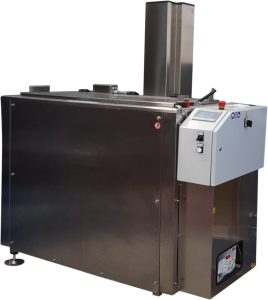 Taking advantage of the possibilities offered by Industry 4.0, we have improved the treatment and preparation of our products with the aid of a new ultrasonic machine for washing metal components prior to assembly.
This type of technology is increasingly used in many production sectors, including the medical and pharmaceutical sectors.
The ultrasound washing machine enables us to eliminate all processing pollutants more quickly and far more effectively than the traditional manual cleaning process.  Furthermore, the ultrasound process is considered eco-friendly due to the use of biodegradable surfactants. This is an important improvement to our production system.
Sfruttando le possibilità offerte dall'Industria 4.0, abbiamo migliorato ulteriormente il trattamento e la preparazione dei nostri prodotti tramite l'ausilio di una nuova macchina ad ultrasuoni per il lavaggio dei componenti metallici.
Questo tipo di tecnologia trova un utilizzo sempre maggiore in molti settori produttivi, compresi quello medicale e farmaceutico.
Con l'impianto ad ultrasuoni è possibile eliminare tutti gli inquinanti di lavorazione in modo più rapido e molto più efficace. Oltre a questo la potenza pulente degli ultrasuoni è considerata ecologica grazie all'impiego di tensioattivi biodegradabili e una chimica più dolce. Questo è un importante miglioramento del nostro sistema produttivo.