Handling / Materials:       Pharmaceutical powders
Client / Industry:              Pharmaceutical manufacturer
Geo Location:                   Ireland
The Requirement:
A DN250 butterfly valve for use in a system with regular wash downs and which would permit the system to drain right down to the level of the butterfly leaf.
Flange connections to ANSI #150 10" dimensions, which had to be floating at one end because the flanges on the host system turned out not to be perfectly aligned with each other, and it was necessary to be able to turn the top flange to line up the bolt holes
A set of suitable plugs for the drain holes when these were not in use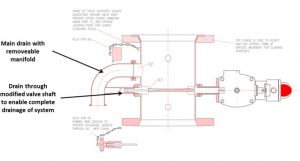 The solution:
We manufactured a valve with a customised leaf which had a drain hole through the short trunnion and various drain ports with TC connections for use during the washing process.
The valve body was made long enough to cover the leaf in the open position.